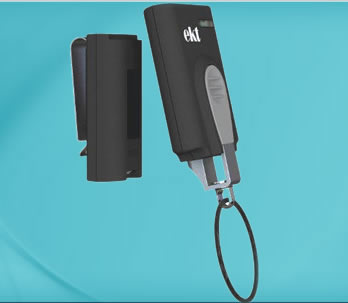 I recently had the opportunity to talk with Randy Neely, the founder of Seattle startup Tether Technologies.  Randy's company had just finished a round of presentations to a large group of angel investors.  After viewing a wide range of startup business pitches, his product was selected for the top award by the potential investor groups.
What interested me was that Randy's company is building a commercial real estate product.  Out of a lineup of exciting new medical, tech, and consumer electronics products, these investors had seen the most value in a field that is, frankly, very boring to the average consumer.  Commercial real estate is a big money business, but building security, operations, and maintenance are not hot topics for the usual Seattle techie startup crowd.
Tether Technologies' ekt (electronic key tether) is based on a simple idea, but it has some significant financial ramifications.  Once you've heard the pitch, it seems almost unbelievable that someone else didn't invent it years ago, which is basically how Geekwire's writers felt when they featured it last month.
Building security companies rely on large sets of copied keys to secure their commercial real estate.  There are also a number of master keys which can unlock virtually every door in the building.  When one master key gets lost, the security of the entire building is compromised.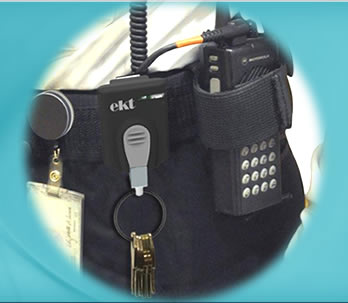 Commercial buildings have dozens of employees carrying building keys every day, all in different areas and on different shifts.  When one employee loses a master key, the entire building will often have to be re-keyed to satisfy the buildings' tenants that their office space is secure.
Neely has spent his entire career in building security, and was personally involved in the re-keying of a building years ago that cost over $80,000.  This represents a huge potential liability.  How are master keys lost?  It's usually a simple mistake.  Keys are set down in the lunch room.  They're left in the bathroom.  They fall off the back of a desk.
The electronic key tether solves this problem with a simple two-piece unit.  A belt unit attaches to the employee's belt, and a key unit holds the employee's key ring.  These units can be easily clipped together for carrying, or separated when needed to unlock doors.  When an employee sets down his/her key unit and walks more than 10 yards away from it, the technology comes into play.
The belt unit and the key unit begin to emit a flashing LED strobe light, as well as sounding a loud chirp.  The employee is reminded by the belt unit that they've left their keys somewhere, and can find them quickly by following the noise/lights to the key unit.  The alarms all stop when the employee attaches the two units together again.
The market for a product like this is vast.  Besides the newest, purely digital security systems that might be found in a few brand new buildings, nearly every commercial building is working with physical master keys and could benefit from the proactive approach to avoiding future re-keying expenses.  Plenty of companies offer services that mitigate losses after keys have gone missing, but this is the first product that actually prevents master keys from being lost.
Tether Technologies' product seems to be a low-cost insurance policy for companies who own or manage commercial real estate.  It also has the potential of saving the reputation and time of building management.  There are also potential future consumer applications, as were pointed out in a recent Puget Sound Business Journal article.  The investors seem to agree.  2,000 sets of the units are coming off the production lines in Ballard as we speak, and this could be an interesting company to follow as the product comes to market.
© SeattleHome.com: - Sam DeBord, Managing Broker, Realtor
Coldwell Banker Seattle: Coldwell Banker Danforth & Associates
Twitter | Facebook | LinkedIn | Google + | Sam (at) SeattleHome.com